Vauxhall New Car Offers
There's a Vauxhall for everyone.
Get a quote online or alternatively you can contact us on 01952 265400 to arrange your bespoke Greenhous Vauxhall finance offer.
We are now offering 0% APR Personal Contract Purchase (PCP), with minimum 30% deposit over 2 years.  As with our rated PCP, you can keep your options open at the end of the term.
Click model below for more info 
New Corsa Design
10-inch colour touchscreen with Apple CarPlay™/Android
Auto™16-inch grey alloy wheels
Rear parking sensors
LED Headlights with high beam assist
Lane departure warning with lane assist
Flat-bottomed leather steering wheel
Speed sign recognition
Automatic emergency city braking
Cruise control
New Corsa GS
10-inch colour touchscreen with Apple CarPlay™/Android Auto™
17" diamond cut, gloss black alloy wheels
Electronic climate control
7" inch digital instrument cluster
Black roof
Sports body styling
Sports style front seats
Front and rear parking sensors
Rear view camera
Side blind spot alert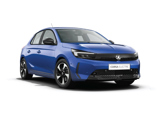 New Corsa Electric Design
10-inch colour touchscreen with Apple CarPlay™/Android Auto™
16-inch grey alloy wheels
Rear parking sensors
LED Headlights with high beam assist
Lane departure warning with lane assist
Flat-bottomed leather steering wheel
Speed sign recognition
Automatic emergency city braking
Cruise control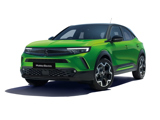 Mokka Electric GS
10-inch colour touchscreen with Satellite Navigation & Apple
CarPlay™/Android Auto™
18-inch Bi-colour alloy wheels with red accents
Electronic Climate Control
12-inch digital instrument panel
Rear parking sensors
Heated front seats & steering wheel
Keyless entry & start
Black roof and headliner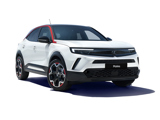 Mokka GS
10-inch colour touchscreen with Satellite Navigation & Apple
CarPlay™/Android Auto™
18-inch Bi-colour alloy wheels with red accents
Electronic Climate Control
12-inch digital instrument panel
Rear parking sensors
Heated front seats & steering wheel
Keyless entry & start
Black roof and headliner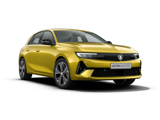 Astra Electric Design
Pure Panel - 10-inch colour touchscreen and 10-inch digital instrument cluster with wireless Apple CarPlay & Android Auto
18" Bi-colour alloy Wheels
Keyless Start
Lane departure warning
Rear parking sensors
Traffic sign recognition
Active cruise control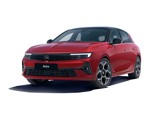 Astra GS
Multimedia Pure Panel Pro Navigation System – 10-inch colour touchscreen with 10-inch digital instrument cluster
Wireless Apple CarPlay/Android Auto™
17-inch black alloy wheels
Heated front seats
Intelli-Vision 360° panoramic parking camera
Alloy-effect sports pedals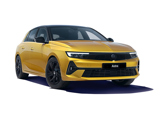 Astra Plug-in Hybrid GS
Multimedia Pure Panel Pro Navigation System – 10-inch colour touchscreen with 10-inch digital instrument cluster 
Wireless Apple CarPlay/Android Auto™
17-inch black alloy wheels 
Heated sports-style front seats
Intelli-Vision 360° panoramic parking camera
Alloy-effect sports pedals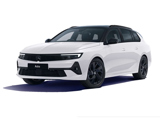 Astra Sports Tourer GS
17" Alloy Wheels
Keyless Entry & Start
Heated Seats & Steering wheel, Driver AGR
Front & rear parking sensors and Intelli-Vision
Traffic sign recognition
Active cruise control
Astra Sports Tourer Plug In Hybrid
Finance Offers
See Our Latest Finance Offers Below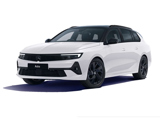 Astra Sports Tourer GS
17" Alloy Wheels
Keyless Entry & Start
Heated Seats & Steering wheel, Driver AGR
Front & rear parking sensors and Intelli-Vision
Traffic sign recognition
Active cruise control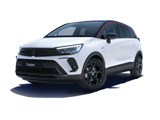 Crossland GS
8-inch colour touchscreen with Satellite Navigation & Apple CarPlay™/Android Auto™
17-inch bi-colour five-spoke alloy wheels
Dual-zone electronic climate control
Driver's & passenger's ergonomic active seats
Dark-tinted rear windows
LED front fog lights
3.5-inch colour instrument display
Black Pack
Grandland Plug-in Hybrid
Finance Offers
See Our Latest Finance Offers Below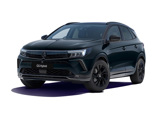 Grandland GS
18-inch gloss black alloy wheels
10-inch colour touchscreen & 12-inch Digital Instrument Cluster
Multimedia Navi Pro infotainment system
Rear view camera
Driver's ergonomic active front seat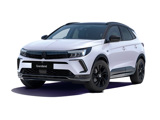 Grandland GS 
18-inch gloss black alloy wheels
10-inch colour touchscreen & 12-inch Digital Instrument Cluster
Multimedia Navi Pro infotainment system
Rear view camera
Driver's ergonomic active front seat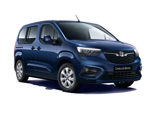 Combo Life Electric Design 5-seater 
Multimedia infotainment system with 8-inch colour touchscreen 
DAB digital radio, Bluetooth® and USB audio connection
16-inch alloy wheels
Nearside and offside sliding side-access door with opening windows
Rear parking distance sensors
Dark-tinted rear windows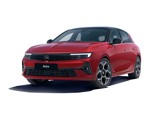 Design Highlights:
17-inch steel wheels with full diameter trims
Front and rear body-coloured bumpers
Tinted privacy rear windows and tailgate
Front fog lights
Rear parking distance sensors
Maximum 8-seat capacity