Electric and Hybrid Servicing
Taking care of your Electrified Vauxhall Electric Vehicle
Whether you have bought the new Corsa Electric, Mokka Electric or New Grandland Plug-in Hybrid, your fully electric vehicle has simpler technology and fewer moving parts than petrol/diesel vehicles. So there's less to go wrong on the road.
It is, however, still essential that these are checked from time to time to ensure optimum reliability, performance and safety.
To find out more about our Electric Vehicles please visit our electric Knowledge Hub.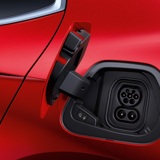 Charging
There are three ways to charge: using a normal household socket, a wallbox or a public charge point.
Find your nearest charging points using our helpful map, and plot your journey from start to finish. So you will always find a place to charge your Vauxhall.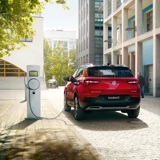 Driving Style
To ensure you are getting the most range out of your car, follow the below advice.
Avoid harsh braking
Turn off Sport Mode when you don't need it
Drive at a moderate speed and avoid unnecessary acceleration
When motorway driving, follow a vehicle that drives consistently, like a lorry, at a safe distance
When planning your route, try to avoid large, steep hills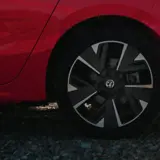 Regenerative braking
Regenerative braking will increase range and also reduce wear on brake pads and discs extending their life. 
Check your tyre pressure at least once a month and before long journeys. You'll find the recommended pressure in your vehicle's handbook.
If they're low, head to your nearest service station and top-up to the recommended levels.
Find your nearest charging point
Types of Electric Hybrid Vehicle Services
Choosing to drive an electric or hybrid Vauxhall not only helps the environment and helps to reduce your carbon footprint but for electric vehicles it can also help you benefit from reduced servicing costs.
Depending on your Vauxhall's age and mileage, you will have different recommended levels of servicing – Interim, Main and Major. Please refer to your handbook recommended mileage service intervals.
Service and Maintenance FAQ's
Here is a selection of the most common questions about electric vehicles that we get asked at Greenhous Vauxhall.
Electric cars have proved to be incredibly reliable. This is partly because they have fewer moving parts than a conventionally-engined vehicle, so there are no exhausts, fuel delivery systems, oil filters, gears or clutches to wear out, replace or maintain.
For extra peace of mind, all Vauxhall electric vehicles are covered by an additional warranty for the battery which guarantees that at least 70 per cent of its capacity is maintained for 100,000 miles, or eight years.
We are all used to the batteries in devices such as mobile phones and laptops losing some of their capacity after just a few years. While electric car batteries will inevitably lose some performance over time and use, they are designed to be much more robust than the power packs in household electronics so should last as long as the car. They may even have a second life in power storage once the rest of the car has worn out!
The length of time taken to charge an electric car will depend mainly on the type of electrical connection you use. The slowest is a normal three-pin socket. The supply from these is around 2kW per hour, and as the smallest battery offered in a Vauxhall electric car is 50kWh, so you can do the calculations and see that is will take a long time to get to 100% full. They can be useful if you just want to get a few extra miles in the 'tank' though.
The most common charger for EV owners is a wallbox, which will usually feed power at either 3.6, 7.2 or 11kWh. These are perfect for home use as they will fully charge a battery overnight while you sleep. 
Public AC chargers have similar outputs to a wallbox, so plugging in while you shop or have lunch for an hour would add around 30 miles of range to a car like the Corsa Electric. 
Finally, the biggest and fastest chargers of all are the DC 'rapids' found at service stations and other locations. These typically have outputs of 50kW up to 150kW and can take the battery in a Corsa Electric, Mokka Electric, Combo Electric or Vivaro Electric to 80% in less than half an hour.
Both the Mokka Electric and Corsa Electric have a range of over 200 miles on a single charge - meaning you won't have to charge your car as much as you think! 
British Gas offers an electricity tariff which means there are two electricity unit rates. One during peak times and a cheaper unit rate at off-peak times. The off-peak unit rate is between the hours of 12.00 am to 5.00 am.  So when your EV needs charging, we'd suggest charging your EV in the off-peak times.
No. In fact the maintenance costs of electric cars are around 30% less on average than an equivalent petrol or diesel!
As electric cars have fewer moving parts, they are cheaper and easier to maintain than a car with a traditional engine. There's no exhaust, engine oil, spark plugs or air filter to change and the electric motor and battery are maintenance-free. There are still parts which need looking after of course, but components which are shared with internal combustion-engined cars such as suspension and body panels are no more expensive.
Vauxhall's new vehicle warranty on all of its models covers material or manufacturing defects for a period three years or 60,000 miles from first registration (or 100,000 miles for the Vivaro and Movano vans).
We recognise that some owners might be nervous about the new technology around electric vehicles, so the warranty for the lithium-ion battery pack is extended to eight-years or 100,000-miles for extra peace of mind.  This guarantees that at least 70 per cent of the battery's charging capacity is maintained for the warranty period, or it will be repaired by Vauxhall, subject to the usual terms and conditions. The warranty also includes roadside assistance as part of the package.
Your Vauxhall's motive battery pack is maintenance free, so you won't ever need to add fuel, oil or water to keep it healthy - all you will need to do is charge it when needed. When the car is serviced, your Vauxhall technician will plug into the car's 'brain' and check the health of the battery and advise you how to ensure it has the longest life.
The electronics will do most of the hard work for you, ensuring that the cells are kept at the optimum temperature in extreme weather or while rapid charging. This will make sure it can charge at the fastest possible rate but will also ensure the long-term health of your battery.
Yes, your Vauxhall Retailer's technicians have undergone a series of training courses which ensure that they are able to maintain and repair electric and hybrid vehicles. These result in them being certified as experts in electric vehicle maintenance. They also have the back up of Vauxhall's engineers and experts. This ensures that they can take the best care of your new electric Vauxhall.
There are three ways to charge your EV: using a normal household socket, a wallbox or a public charge point. With the Electric Vehicle Homecharge Scheme (EVHS) lots of local councils are incentivised by the government and will pay up to 75% of the charger cost. And your landlord may have certain obligations to help too.* Alternatively, the public charging network is growing everyday so it is worth checking if there is a charging station just around the corner.
Visit our charge point finder to find your nearest charging point. Or search 'On-street Residential Chargepoint Scheme' for more information.