Discover Astra
The Car You Want To Drive
With a sporty muscular stance, a new uncluttered interior and state-of-the-art technology throughout. The Astra is here.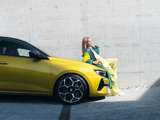 Styling & Comfort
Brilliant from every angle
Say goodbye to boring everyday grilles. The Astra has the forward-looking signature Vizor. This panel sleekly integrates front-end devices, sensors and functions. The Astra's sleek surfaces give it a sporty confident stance.
Look inside the Astra and you will find the new and improved digitally-detoxed Pure Panel® containing all driver information. Relax in Ergonomic Active Front Seats with ventilation and massage function. Enjoy your interior with uncluttered simplicity and ample space. 
The Astra ticks every box, even the high-mounted energy-saving rear LED lights perfectly harmonise with the look. You can add your own personal style with a choice of sleek white or black accent roof. 
Accentuate the sporty style by choosing new Astra's special lightweight alloy wheels. Available in a range of bold and pure style options.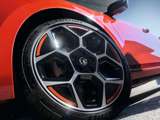 PureSense
Safety Technologies
PureSense gives you a number of safety technologies that heighten your awareness on the road, the smart driver assistance technology makes every journey safer and more relaxing. 
The best bit is, it's all done for you, PureSense constantly works away in the background, scanning the road ahead, keeping you safe and enhancing the experience of driving a Vauxhall.
The Extended Head-Up Display (E-HUD) projects essential information directly onto the windscreen, comfortably within the driver's field of vision. This latest generation E-HUD technology can be set to show different pages linked to the Instrument Panel, including pop-up alerts, incoming call and media information.
PureConnect
Connecting you to what matters
PureConnect delivers seamless connectivity. It connects you to the things that matter through the smooth, flowing Pure Panel display. It links you to your friends and family using Apple CarPlay™ and Android Auto™. And it connects you to your car's onboard tech, through touchscreen and voice control.
Get your favourite tunes at thee ready. The new fully-digital Pure Panel® has a 10˝ instrument cluster and 10˝ centre touchscreen that wirelessly integrates your smartphone via Apple CarPlay™ and Android Auto™. The new user interface can be fully personalised with individual profile management including driver recognition.
You also get Connect services emergency and breakdown call plus automatic updates over-the-air.  The Multimedia system include features like AM/FM/DAB+ radio, Bluetooth® audio streaming and dual USB-C ports for great sounds wherever you go.
No more wires, no more tangles. Charge your compatible devices using the integrated wireless charger. Rapid-movement detection prevents wireless overload damage to your device's battery when you're driving over bumpy roads and tracks.
Smart technology systems and related services offer connectivity and innovative services to keep you safe and ensure a good trip.
Enjoy peace of mind on every trip, day or night. Our smart technology and connected services keeps you safe and updated at all times, with:
-Breakdown call (b-call) - In the event of an accident or breakdown, your can rely on Vauxhall Connect with its own SIM card installed in your car or van. In the event of a serious accident, such as airbag inflated, an automatic message will go off to the emergency services with details of your location.
-Emergency call (SOS e-call) -  Press the button and you'll be put straight through to the emergency services on the system's integrated phone. 
- Vehicle status and information
- Maintenance alerts, fuel level, average fuel consumption and mileage
Convenience: The e-Remote Control service checks battery level, charge management and air-condition settings via the myVauxhall app.
Drive Smart: relax when you travel thanks to Connected Navigation Pack Plus and Trip and Drive Management service.
Driving Dynamics
Next-Gen Engines
The Astra has been engineered around a whole new platform for agility, driveability and comfort. There are a range of technologically enhanced turbo-charged powertrains for you to choose from. All options are reliable, smooth and have both low running costs and CO2 emissions 
Options include responsive 1.2 petrol or and high-efficiency 1.5 diesel, both delivering up to 130hp and with stop/start features.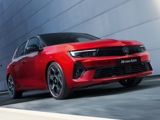 All-new Astra GSE
Featuring a powerful 225PS plug-in hybrid powertrain and offer the optimum balance between ride comfort and performance-oriented handling, as well as ultra-low emissions thanks to the electrified powertrain.
Plug & Go Package
With 3 simple steps, we're making the switch to electric as easy as possible. 
1. Choose from our electric and hybrid range - you get 8 years' battery warranty & 8 years' roadside assistance
2. Charge on the go with Electric Universe - one tap access to over 300,000 public chargers across the UK and Europe
3. Charge at home - choose from one of our 3 wallbox partners,  British Gas, Podpoint or Octopus Energy. At a one of cost or part of your monthly vehicle finance agreement.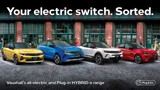 Astra Grades
FIND THE RIGHT ONE FOR YOU
We have offers across the range and we are here to help find the best offer for you. We can tailor a finance solution for you and also organise your part exchange. Feel free to contact us for more information on our great range of offers.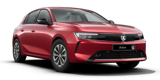 Design
Multi media system - 10-inch colour touchscreen and 10-inch digital instrument cluster with wireless AppleCar Play & Android Auto
16-inch alloy wheels
Keyless start
Single zone climate control with pollen filter
Electrically operated front and rear windows
Speed sign recognition
2 USB Connection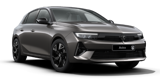 GS
Multi media system - 10-inch colour touchscreen and 10-inch digital instrument cluster with wireless AppleCar Play & Android Auto
17" Alloy Wheels
Keyless Entry & Start
Heated Seats & Steering wheel, Driver AGR
Front & rear parking sensors and Intelli-Vision
Traffic sign recognition
Active cruise control
Hybrid Available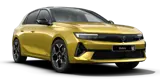 Ultimate
Multi media system - 10-inch colour touchscreen and 10-inch digital instrument cluster with wireless AppleCar Play & Android Auto
18-inch diamond cut alloy wheels
Panoramic Sunroof
Intelli-Drive 1.0
IntelliLux Pixel Headlights
Heated windscreen
Alcantara suede seats, AGR front seats
Hybrid available