Setting the standard for the future
Sustainable driving through electric innovation
One that's based on zero emissions whilst driving. We do so with vehicles like the award-winning 100% electric Nissan LEAF and the cutting-edge ARIYA. But we don't stop there. Our passion for electric cars extends to the whole electrical eco-system including Home Charging and Vehicle-to-Grid technology.
Charging your electric car
One of the easiest ways to charge your car is at home. It's fast, convenient and costs around 3.7p per mile*. With the Nissan LEAF's range, the average driver need only charge a couple of times a week. There are lots of home installers out there, but we like to work with two of the best - E.ON Drive and Pod Point. Join us and the journey to cheaper motoring.
Our Preferred Chargepoint Installers
E.ON Drive and Pod Point - offer a range of charging solutions and comprehensive charger installation services. If you would rather pay upfront for your charger, why not click the charger images below to enquire directly with one of our preferred installers.
One-stop shop finance offer
You can now simplify going electric by getting your electric vehicle, home charger and standard home installation all for one single monthly payment as part of a new finance offer available through Nissan dealerships nationwide.
The offer is the result of a collaboration between Nissan and our two preferred EV chargepoint installers – E.ON Drive and Pod Point.
To find out more contact your local Nissan dealership and ask about our charger finance option.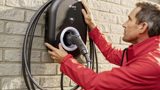 Find out more about our innovative Electric vehicles.