Greenhous Group, one of the largest automotive groups in the UK with a history spanning over a century, is a strong advocate for apprenticeship opportunities. With locations across the North, West Midlands, South, and South West, Greenhous Group comprises Greenhous Commercials, North West Trucks, Adams Morey, and Greenhous Retail, representing renowned automotive brands like DAF Trucks, Volkswagen Commercial Vehicles, Fiat Professional, Vauxhall, and Nissan.
Greenhous Group is committed to empowering the next generation of automotive professionals through our comprehensive apprenticeship programmes. With the support and guidance of our experienced team, you'll gain invaluable skills and knowledge that will set you up for a successful career in the automotive industry.
Whether you're a school leaver, a parent exploring options for your child, or an individual considering a career change, Greenhous Group's apprenticeships are designed to provide a solid foundation for professional growth and success.
Take the first step towards an exciting and rewarding career in the automotive industry by applying for a Greenhous Group apprenticeship today.
Why Choose Greenhous Group for Your Apprenticeship?
Greenhous Group's dedication to professional growth, combined with our focus on providing a supportive and inclusive work environment, makes our apprenticeship programmes a top choice for individuals looking to start or advance their careers in the automotive industry.
Earn a salary from day one
Attend the DAF Apprentice College regularly over 3 years
Receive paid accommodation while attending college
Enjoy cost-free travel to the DAF Apprentice College
Benefit from a dedicated skills coach
Expert mentorship from experienced professionals
A strong network of fellow apprentices and colleagues
Opportunities for continued learning and development
Exposure to cutting-edge automotive technologies
A diverse range of career paths to explore
This programme is ideal for individuals who are interested in: 
Developing technical expertise
Problem-solving
Pursuing a career in the automotive industry
Be Part of the Team
Greenhous Group currently hosts more than 60 apprentices, with apprenticeship programmes lasting from 12 months to 3 years. Check out a few of our Greenhous apprentices below who have shared their experiences and explained why they chose an apprenticeship with Greenhous Group.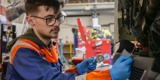 Jake Westwood, 1st Year HGV Technician Apprentice, Greenhous Commercials
Jake began his apprenticeship after completing his GCSEs
"The DAF Apprenticeship scheme meant I didn't have to go to college and sit in a classroom every day. I attend the DAF Apprentice College every 12 weeks with other apprentices within the dealer network to learn new skills and then put them into practice.
It's great spending most of my time in the workshop as I am inspecting vehicles and I see the truck back on the road with a happy customer."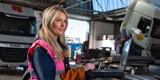 Chloe Gore, 2nd Year HGV Technician Apprentice, North West Trucks
Chloe transitioned from a nursing career to pursue her passion for mechanics. Her apprenticeship has boosted her confidence and equipped her with valuable skills.
"Every day is different; I have recently completed more challenging tasks such as changing a heater motor resistor. Before, I would doubt myself, but my apprenticeship has taught me to believe in myself and have the confidence to try new things.
It has given me the best head start compared to my friends in similar roles. To anyone thinking about an apprenticeship I'd say do what makes you happy and go for it! Especially for women because you're just as capable, you should never rule it out."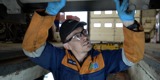 Max Winter, Award-Winning HGV Technician Graduate, Adams Morey
Max has enjoyed a glittering apprenticeship – winning multiple awards on his way to graduating in this year. He has been a DAF Apprentice of the Year Finalist 3-years running, winning the award in 2023. He has also competed twice at the prestigious World Skills Final, most recently winning the Silver Award.
"I was working in retail, I decided when my daughter was born, I wanted to do something with my life and for my family. I wanted to do something with engineering, I saw an opportunity at Adams Morey to kickstart my career and applied.
My proudest moment whilst working for Adams Morey so far has been winning the DAF Apprentice of the Year Award 2023 and achieving Silver at World Skills Finals 2022. I am currently working towards my HGV Licence and my CPC qualification. Adams Morey has been extremely supportive throughout my apprenticeship and my mentors have guided, encouraged, and inspired me to progress."
How to Apply for an Apprenticeship at Greenhous Group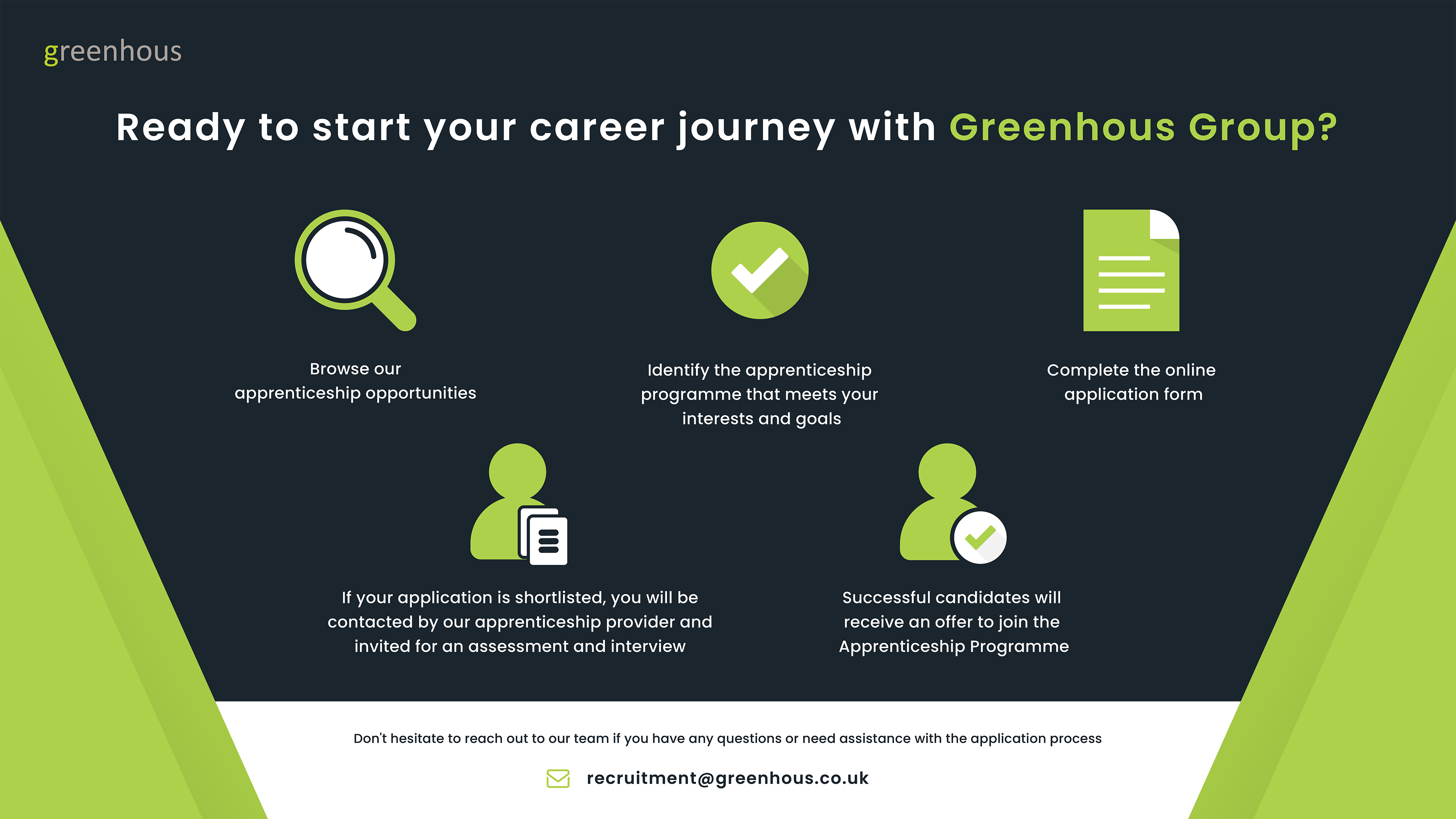 Visit our careers and vacancies page to browse current apprenticeship opportunities.
Identify the apprenticeship programme that aligns with your interests and goals.
Complete the online application form, providing all necessary information and documentation.
If your application is shortlisted, you'll be invited for an interview and assessment.
Successful candidates will receive an offer to join the Greenhous Group apprenticeship programme.
Don't hesitate to reach out to our team if you have any questions or need assistance with the application process; [email protected]
Start your Greenhous Group apprenticeship journey today!