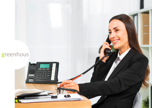 Vehicle Refurbishment Administrator - Greenhous Refurbishment Services Limited, Livingston
Vehicle Refurbishment Administrator - Greenhous Refurbishment Services Limited, Livingston
Hours: 8.00 am to 5.00 pm, Monday to Friday, with 30 minutes for lunch (unpaid) i.e. 42.5 hours per week.

Salary: £24,310.00 per annum
A new opportunity has arisen to join the business as a Vehicle Refurbishment Administrator at our Livingston site.
Other duties may be required of the post holder in addition to those listed above and below, to ensure that the requirements of the business are met at all times.
What you'll be doing:
Maintain internal systems to ensure accurate and up-to-date records of all vehicle transactions.
Maintain customer portals, ensuring that all information is accurate and up to date.
Maintain general upkeep of customer folders, ensuring that all information is accurate and up to date.
Liaise with subcontractors.
Assist in reporting.
Work with Drivers and Yard operatives to ensure the smooth operation of customer arrivals and despatches.
Deal with site exit issues and ensure the system is correctly updated.
Work with site Management.
What we need from you:
Experience in administrative support, preferably in the automotive industry.
Strong organisation skills and attention to detail.
Excellent communication and interpersonal skills.
Ability to work independently and as part of a team.
Proficient in Microsoft Office and other relevant software applications.
Able to work in a fast-paced environment and adapt to changing priorities.
In return we'll offer:
Pension
Employee discounts
Career development opportunities
Who we are:
Greenhous is firmly established as one of the largest dealer groups in the UK and has over 100 years' experience in the franchised dealer world. We are a leader in the supply of dealer services for some of the world's leading manufacturers.
Our network of Car and Commercial dealerships now stretches across Shropshire, Staffordshire and the West Midlands and includes a number of different franchises namely Vauxhall, VW Commercials, Nissan, and DAF.